THANK YOU!!!
Dear Women!

Thank you for your presence in the 2010 Women and Identity Festival. I apologize for the unforeseen technical difficulties that challenged our virtual residency while our DL site was being restructured. This limited our communications, yet I enjoyed your posts and certainly feel that we have been connected in our ongoing process of being women in the arts.

We are so looking forward to your continued participation in the ever expanding Deep Listening community.

I hope you will tune in to the illuminating culminating concert that took place at Deep Listening Space! Vocalists Lisa Barnard Kelley and Jackie Heyen performed with a 16 channel speaker set up that opened up our ears, minds and hearts!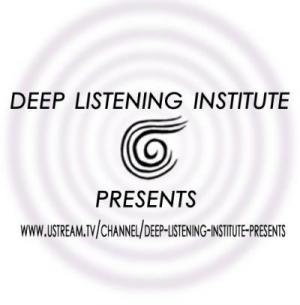 http://www.ustream.tv/channel/deep-listening-institute-presents
I
This year year we celebrate the 15th Annual Dream Festival! October 1 to November 30th So please be on the look out in your dreams and beyond for your invitations to participate.
If you are not already on our list of Deep Listening Artists, you will soon be added to this page on our Web-Site. We will use the bio that you gave us, unless you have an update. If so, please contact
Lisab@deeplistening.org
.
With love and very best wishes for our creative undertakings, I send you sweet dreams,
Meanwhile, The Art goes on!
IONE
--